Clients Speak Out for Jen!
"Jen, I am so proud of you and your team for pouring your hearts into this program. I really appreciate it and am having you manage every program in and around your area! You were fantastic and great to work with, loved your enthusiasm!"
~SeeLun M. Sr. VP Grand Central Marketing


"Jen you are awesome and I'm so happy to have you on my team! Thank you also for your thorough and constant communication!"~Sherry K. President Fusion Staffing


"Jen, thank you for all that you did for this promotion. We were very impressed with you and definately want you to work for us again on this project next year!"~Robert G. VP L'Comm Marketing

"Jen, my team was short handed all week and we were still able to get the same results as if we were fully staffed. We owe that all to you! You went above and beyond the call of duty and I thank you!!
~Juan B. AT&T
What's On Jen's Schedule?
Currently Jen is working with several key accounts and will be managing events nationwide as well as within the Dallas/Fort Worth Metroplex.


Jen is also promoting the new movie Jack Ass 3D! It opens October 15th!!


This September, Jen will team up with Dallas Marketing Firm "Significant Events Of Texas" to staff their events!www.SignificantEventsOfTexas.com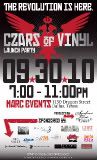 If you want Jen to head up your next event, send her an email today with your program details and proposed execution dates. Jen will return your email or phone call to discuss how she may help to make this your biggest success yet!
Jen's Personal Stats & Contact Info
Height: 5'5
Weight: 103
Chest: 32D
Hair: Long Blonde
Eyes: Blue
Pant: 0
Shirt: XS or SM

"Hello and thank you for visiting my site! I am very excited to work with you and add your event to my extensive list of accomplishments! For my full professional resume, please send me an email to Jen@JenCarrollMarketing.com. I would love to discuss your upcoming event and how I can make it your biggest success yet!" Sincerely, Jen
Sponsored By: www.YourFishingREELtor.com